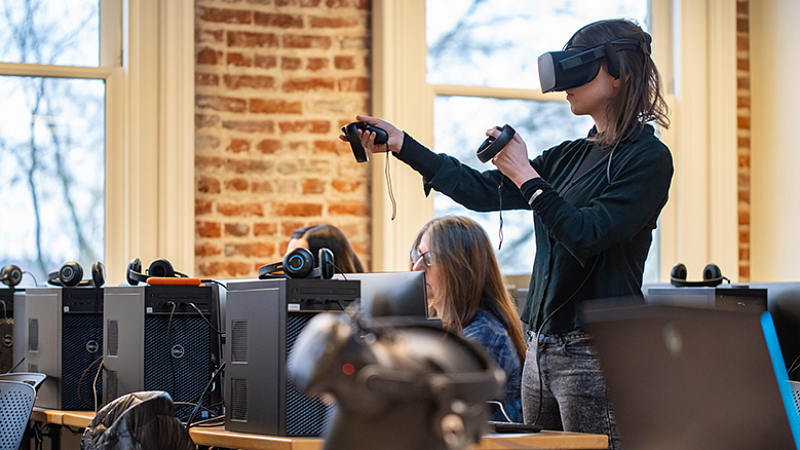 Emerging immersive media technologies are no longer just for training and gaming. Today's strategic communicators need to understand the multiple "realities"—augmented (AR), virtual (VR), and extended/cross (XR) reality—as powerful communication tools that will help them get an edge over competitors and reach key audiences in innovative ways. This is the work we do at the SOJC's Oregon Reality (OR) Lab.
Need more proof? Forbes recently wrote about the D2A (direct to avatar) economy. The Smithsonian's Mars Rover AR app allows you to "navigate the rover in your kitchen." Fast Company just ranked Epic Games as the most innovative social media company of 2021. Facebook recently became Meta. And that's just the beginning. The metaverse is here.
What Is Immersive Media? 
Immersive media uses AR, VR, and XR, as well as social virtual worlds (VWs) and platforms like Second Life, as strategic tools for communication. These technologies have powerful applications in marketing, advertising, and branding industries because they can put the user inside the experience, leading to increased empathy, connection, and motivation.
What Will You Learn?
In our Immersive Media Track, you will investigate the attributes of technologies that create both opportunities and barriers to successful communication and examine case studies to determine possible uses. You will learn how to:
Demonstrate an understanding of immersive media with a focus on immersive VR, AR, and XR experiences
Understand audiences and user experiences that are most likely to result in effective use of immersive and experiential communication strategies
Clearly define key attributes of AR, VR, and XR tools that are important to communication and their potential uses
Consider appropriate and measurable communication outcomes for targeted publics using AR, VR, XR, and VWs
Understand the resources needed to implement an AR/VR/XR strategy
How Does the Track Work?
As a student enrolled in the Strategic Communication Master's program, you will take courses (virtually or in person at SOJC Portland) that teach the science of immersive communication, the cutting-edge research happening in the field today, and a variety of methods for developing and producing immersive stories.
Coursework consists of all core classes in the Strategic Communication degree and five or more elective courses in Immersive Media. Elective courses cover a range of topics so you can build a curriculum best suited to your interests in research and/or story production. Below is a list of courses we have offered in the past, but we are continually updating our curriculum, so check with our recruiter or your program director or advisor to learn more.
Immersive Media Courses
Foundations in Immersive Media (4 credits, offered in fall term): Students explore the uses of social virtual worlds as well as augmented and virtual reality through the strategic lens of communications (marketing, advertising, branding) and community building. Students will develop a proposal for an issue or organization that uses mediated reality to engage audiences for strategic outcomes, recognizing limitations and providing recommendations to overcome those limitations.  
User Experience and Design (4 credits, offered in winter term): This hands-on course is designed to teach fundamental principles of user experience (UX) and human-centered design (HCD) in the context of strategic communication. This course is heavily interdisciplinary in nature, relying on various theoretical and applied approaches drawn from fields of human-computer interaction (HCI), media psychology, and many others. UX is also context-specific, and we will be highlighting UX design in various domains, including mobile apps, traditional web, service and customer experience, gaming, and product design, among others. This course will strengthen your ability to identify and understand universal principles of UX design, conduct basic UX research that produces culturally relevant insight, and begin to translate that insight into testable, research-driven UX design solutions specific to a product/service.
Introduction to Creating for Immersive Platforms (2 credits, offered in spring term): Students get an introduction to the tools used in designing and building for virtual reality and augmented reality experiences. Students will use industry-standard software to create their first interactive VR environment and explore the foundations for AR-driven applications. They will also become familiar with off-the-shelf resources to get started quickly and gain an understanding of the overall production pipeline used in generating content for immersive platforms. No prior experience required.
Immersive Storytelling (2 credits, offered in spring term): Students focus on three relatively accessible areas of VR production: 360 video, photogrammetry, and spatial audio. Photogrammetry generally refers to the use of photography for mapping and in this context refers to the use of photography to create navigable virtual worlds. The course is hands-on, and students walk away with a short, visual, produced piece for their portfolio.
Building Real-Time-Ready Assets for Immersive Media (4 credits, offered in fall term): Students get an introduction to the production pipeline for creating custom assets for immersive and interactive media. They will gain hands-on experience using cross-platform workflows to bring their original ideas to life. This course focuses on 3D modeling, texturing, and lighting for real-time rendering environments. (Prerequisite: Introduction to Creating for Immersive Platforms) 
Electives
Course titles offered within each "topic" will vary, and many of our electives include experiential learning. Elective courses are repeatable when the topics have different titles, for a total of 16 or more credits. Electives offered may include topics such as: 
Data Analytics
Project Management using XR (Agile/Scrum)
XR Data Visualization 
Entrepreneurship 
Game Engine Coding 
Digital Identities 
Tech Communication
Artificial Intelligence
Industry Collaboration (internship credits) 
Immersive Audio Design 
Photogrammetry 
Accessibility and Ethics 
Game Studies 
Critical and Cultural Concerns of Immersive Technology
VR for Social Good
Gamification 
VR for Media Professions 
VR in Cinema 
Research Methods in Immersive Spaces 
Understanding Immersive Platforms 
Graduate Research, Internship, and Job Opportunities in Immersive Media
Once you have completed coursework in the master's program, you'll want to apply your skills outside the classroom. SOJC faculty members often help industry professionals find talent. This can be anything from immersive media communication internships and research assistantships to full-time jobs. Here are some examples of jobs emerging in this field:
Immersive media strategist
Chief metaverse officer
Immersive media concept designer
Content researcher/creator
---
Get a Master's Degree in Immersive Media Communication
Ready to dive deeper? SOJC Portland just launched a first-of-its-kind, one-year, fully online master's degree in Immersive Media Communication. Students focus 100% on the power of immersive media and using new technologies—including virtual (VR), augmented (AR), and extended reality (XR)—as strategic communication tools to solve social, environmental, and business problems. Get ahead of the rapidly evolving communication industry by preparing for emerging careers like immersive media strategist, Web3 community builder, and chief metaverse officer.
---
Questions?
Need some guidance? Contact our graduate recruiter with questions about the program, the application process, and admission.