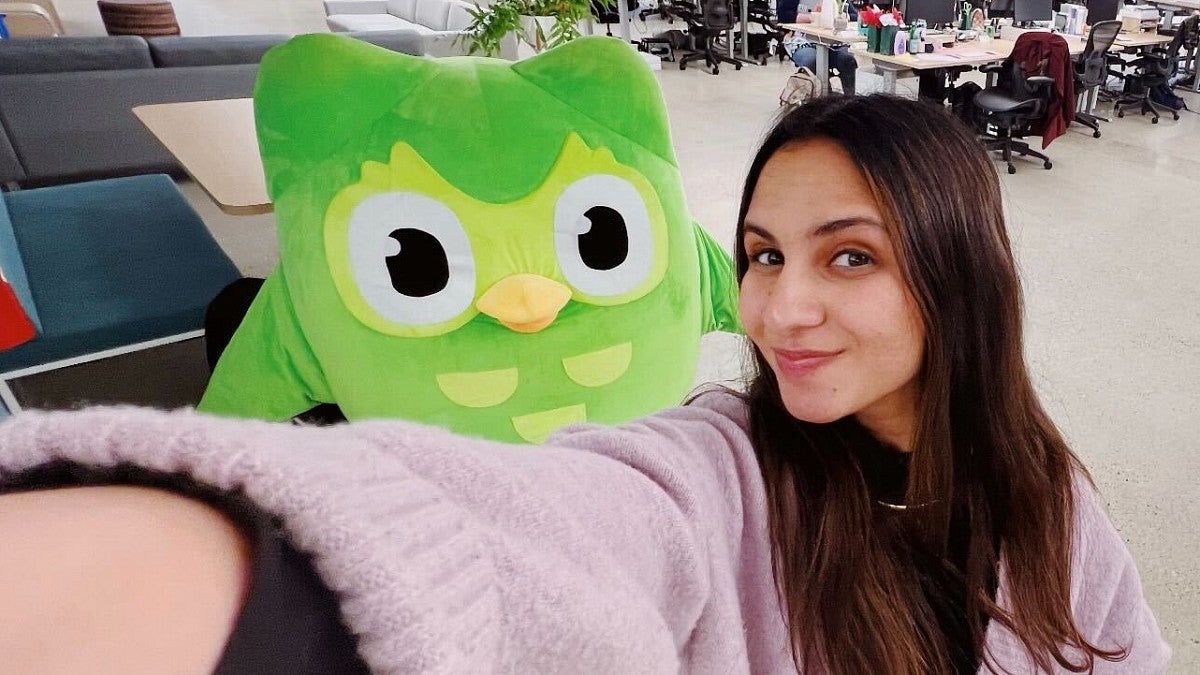 In a matter of three months, over 2 million people hit the "follow" button on Duolingo's TikTok page. Why? To watch the language-learning app's mascot, a big green owl named Duo, twerk on conference tables, sass viewers for not doing their language lessons and playfully harass employees.
Behind the explosive success of the now TikTok-famous owl is Zaria Parvez, Duolingo's social media coordinator and a 2020 graduate of the School of Journalism and Communication's (SOJC) advertising program. In her first job out of college, she has made a name for herself in the advertising space, receiving attention from NBC News, Business Insider and Rolling Stone.
It was Parvez's love of writing and discovering what makes people tick that drew her to advertising and the SOJC.
As a Portland native, she always had the University of Oregon in mind as a potential college choice. She was aware of the advertising program, but it was her desire for a strong liberal arts school that solidified her decision to come to UO.
She began her time at UO as a pre-med major but early on made a discovery that would change the trajectory of her college career: She found that writing lab reports was the part of her science classes she enjoyed the most.
"My favorite question in the lab reports was always, 'How do you apply this to the real world?'" she said.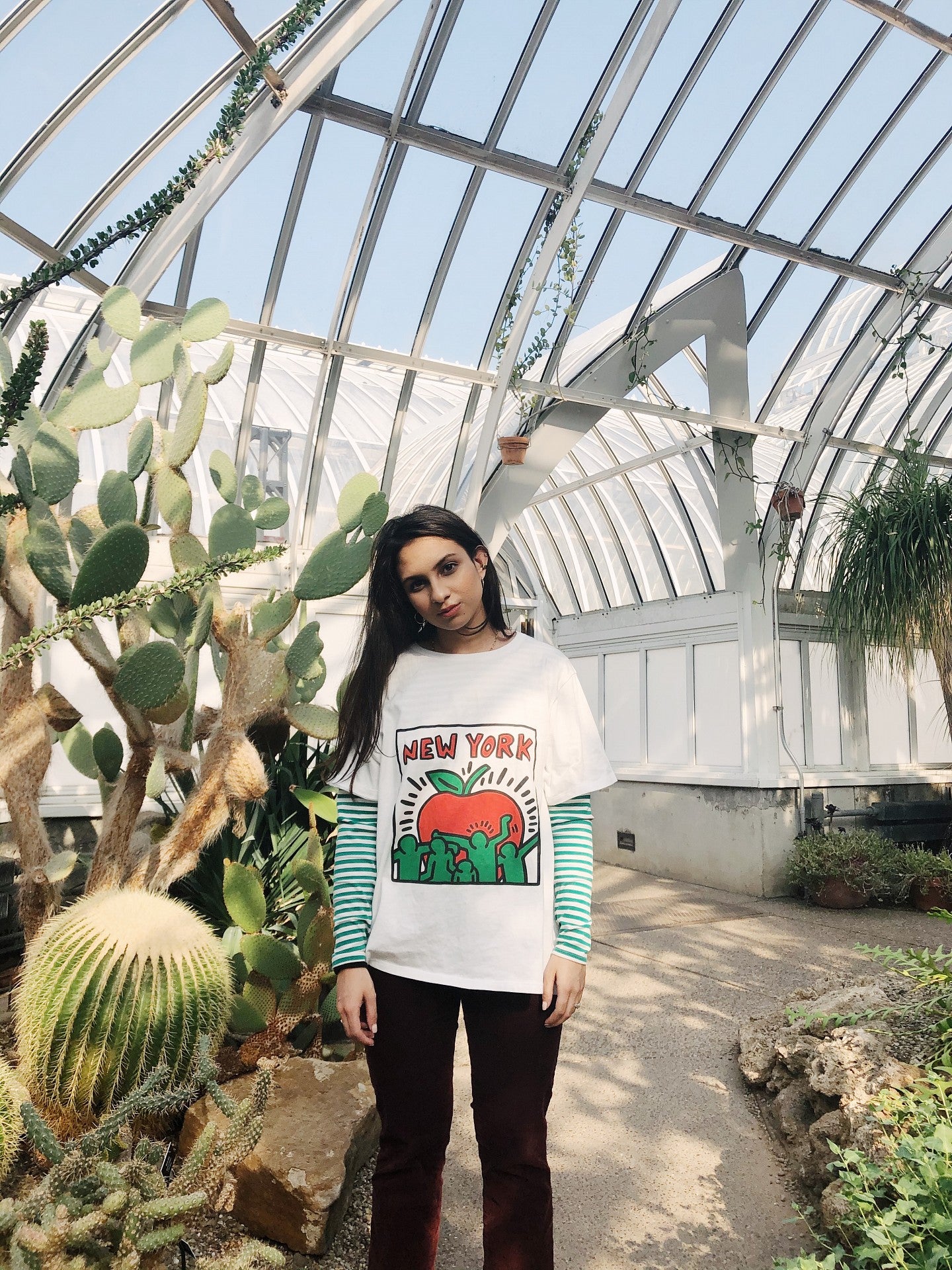 As a media studies minor, Parvez had already spent time in the SOJC and loved the energy of Allen Hall. Her interest in understanding how to get people excited about various topics made for a natural transition into the advertising program. Her intrigue with the field also extended beyond just consumer engagement.
"What I really enjoyed was having to collaborate with people of different mindsets," she said. "In advertising, you have a strategist, you have a media planner, copywriter, art director—and everyone brings something to the table to create this whole campaign that you can't really do on your own."
What also enticed Parvez was the prospect of creating a brand presence that could make a positive impact on the world. Her thesis advisor, Associate Professor Christopher Chavez, was critical to helping her see how advertising can better society.
"He helped me a lot," she said. "My thesis was actually kind of different. Most people tend to write 30-page things, and I made a playbook about how brands can communicate with Muslim consumers. I had a huge focus on diversity, equity, inclusion and belonging within the advertising space while I was in college. He was a huge impact on helping me find my footing on what I want to do and where I want to see my future go, especially as a woman of color in advertising."
In line with her thesis work, she received a fellowship through the Multicultural Advertising Internship Program (MAIP) and served as media director for UO's Upstream 2019-20 student team for the National Student Advertising Competition (NSAC), which qualified for nationals. The competition was canceled due to COVID-19, but she reflects on the time as a valuable experience that connected her with lifelong friends.
Parvez stayed true to the values she established in the SOJC after graduating. Her commitment to being her full self, combined with her hard-earned experience, is how she landed her current position at Duolingo.
"I really wanted to be at a company where diversity was part of the DNA of who they are," she said. "That's why Duolingo was on my radar—it was started by two immigrants. Our whole thing is to make education accessible and free."
When she entered the professional world, Parvez realized she had a "big leg up" because of her experience in the SOJC's advertising program. Starting at Duolingo as a new grad, she was familiar with terminology and strategic communication strategies that were foreign to even some of her superiors. It allowed her to bring unique perspectives and ideas to the table.
"I think that was only possible because of the classes the SOJC provided, the student groups and the professors constantly pushing us to be the best versions of ourselves," she said. "There is no way I would have been here without it."
Parvez now runs Duolingo's global accounts for Twitter, Instagram, Facebook and TikTok. She refers to her role as a "jack-of-all-trades," as she manages creating, scheduling and filming content while also generating a community around the brand.
The Duolingo mascot had already existed for a while before Parvez started working there, but it became her job to bring the owl to life on TikTok. Capitalizing on what she refers to as the "passive aggressive" energy of Duo always being in your notifications, Parvez brought a new brand voice to the app.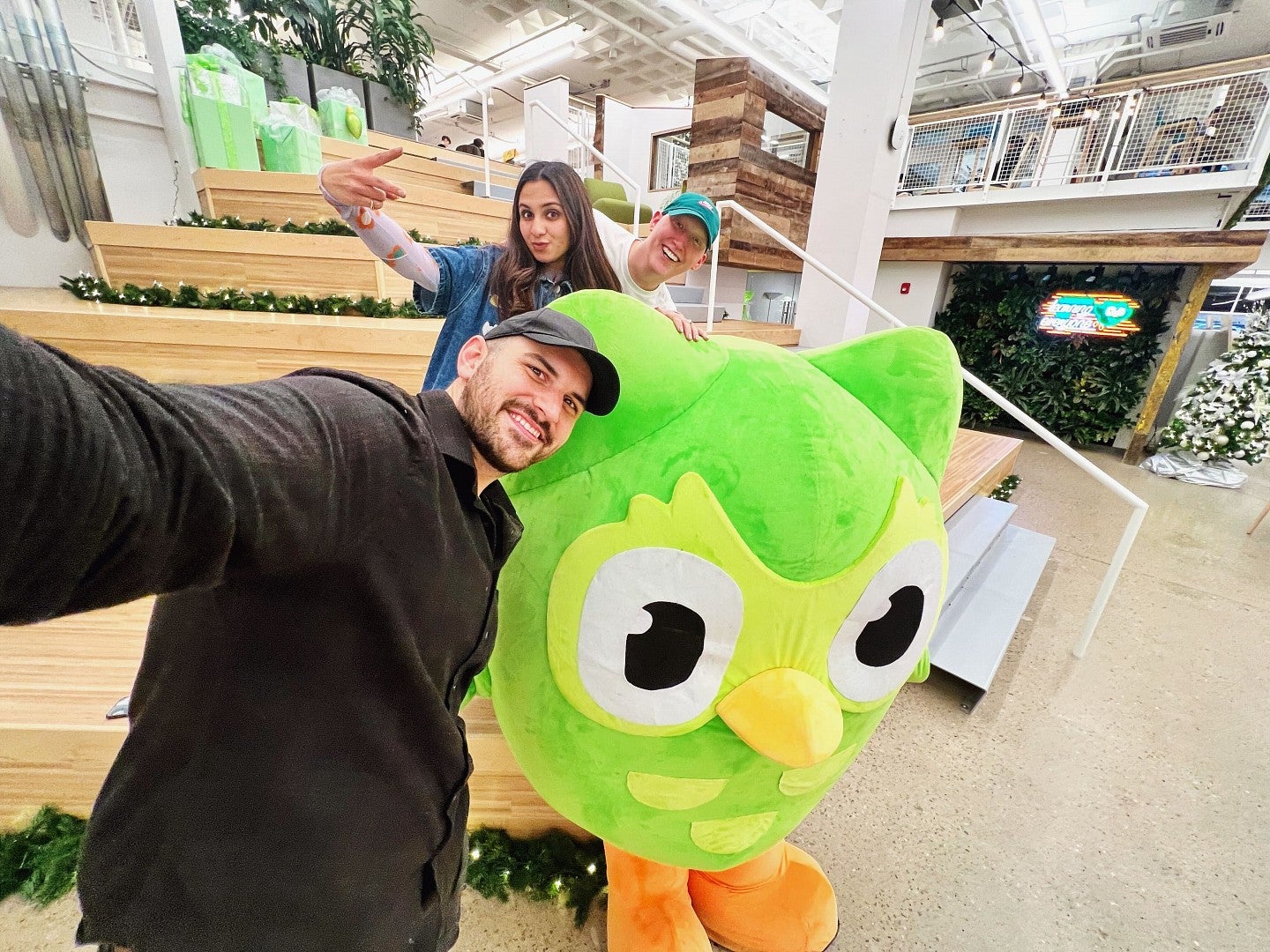 "More than anything, people are looking for a small moment of laughter and entertainment — even more so these days," she said. "In a way, a brand account going 'rogue' is an interesting tension point that captivates the attention of the audience."
Duolingo's TikTok page currently sits at 2.3 million followers. Its videos that have accumulated more than 40 million collective likes, with over 20 million views on one video alone. Parvez said she taps into social listening and uses the comment section as a "social brief" to gain insight into what is resonating with people. Her community management and engagement with the comment section helps her to further establish Duo's brand voice.
She credits Duolingo for valuing young talent and pushing for innovation — both of which have been crucial to her achievements.
"It's a very small team, and it's given me the ability to try out so many things, because I was given the freedom to experiment so much," she said. "That's how TikTok got to be where it is today."
Parvez encourages SOJC students looking to follow in her footsteps to continuously push the envelope and think outside the box.
"Constantly take risks and trust that you should be at a place that wants you to be your full you," she said. "Once you're there, you'll find the success."
—By Haley Landis, class of '22
Haley Landis is a third-year journalism student from Portland, Oregon. She has a passion for writing and is driven by her desire to meet new people and learn about new and challenging topics. She strives to engage her audience through compelling storytelling across a variety of subjects.